The Best Gift To Give A Toddler – And It's Only $11 On Amazon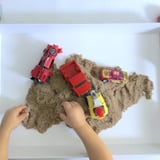 You probably have a heap of plastic trucks, dolls, and Duplos for your toddler, but when those toys lose their luster and you've already maxed out on screen time, what's a toddler parent to do? Sure, you could put together some activities like painting rocks or making slime but, ugh, effort (and not to mention the mess!).
Enter: the best gift my kids have ever received. This Kinetic Sand ($11) was tucked neatly inside a bag that sat hidden under a pile of metallic bows at my son's second birthday party. After I stealthily hid all the gifts that made siren sounds or had more than three parts (what, you don't confiscate your kid's gifts before they can get to them?), I skeptically busted it open.
Sand? I mean, what kind of monster gives a kid sand?! The very thing that you try desperately to avoid getting into your car and house after sandbox playtime or beach trips. The very thing you can be sure you cleaned off your body, shoes, and clothes completely only to find tiny particles hiding in small crevices days later. But, since the giver was a good friend who I was certain wasn't trying to sabotage me, I pulled out the inner package and, to my absolute delight found the most amazing, albeit confusing, lump of "sand." Sand that did not stick to anything but itself. Sand that did not fall apart into miniscule granules. Sand that did not make any mess. What was this magical mixture?
I put it on a tray, added a few cars and trucks, and voila! Literally one uninterrupted hour of playtime from my 2-year-old. Yes, an hour. Trust me, nothing gets his attention for that long unless it's flashing on a TV screen. When the wheel play waned I threw in a handful of kitchen utensils and the quiet, independent fun continued – that is, until my 5-year-old noticed and wanted some for himself! Enter: Amazon prime. Two days later, we were back in business with a double batch of this miracle dust.
I still have no idea how it works, or how to adequately explain it. The package says it's "made with a special formula of beach sand and Polymers," whatever that means. But I do know this nontoxic Kinetic Sand is worth it's weight in gold. But it's nowhere near that expensive. A three-pound bag will cost you less than $11 on Amazon, so go ahead and stock up.
I keep extra bags in my closet for the inevitable weekend when that birthday party I put on the calendar two months ago and promptly forgot about happens, or when we need extra during play dates. But you certainly don't need a stash to replace yours, because like the package boasts, this stuff never dries up. We've had ours sitting out on the same trays in the dining room (yes, my children have taken over our house and I can't even fight it anymore) for months, and it's the same consistency as the day we opened it.